WELCOME, HERZLICH WILLKOMMEN,
BIENVENUE, BIENVENUTO
Message from H.E the Ambassador
REGISTRATION OF KENYAN NATIONALS
NEWS ALERTS
Message from H.E the Ambassador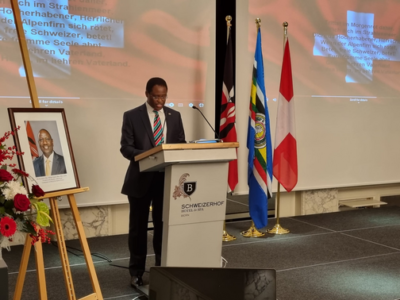 Welcome to the official website of the Kenyan Embassy in Bern. We sincerely hope that you will find the website and its linkages useful for getting news and information about Kenya, with particular attention to the Government, consular services, trade and investment opportunities, travel and tourism, as well as bilateral relations with the Confederation of Switzerland. ➚ Read More
REGISTRATION OF KENYAN NATIONALS
NEWS ALERTS
CONSULAR SERVICES QUICKLINKS
VISA APPLICATIONS
Kenya Tourism
TRADE AND INVESTMENT OPPORTUNITIES IN KENYA
CONSULAR SERVICES QUICKLINKS
VISA APPLICATIONS
Kenya Tourism
TRADE AND INVESTMENT OPPORTUNITIES IN KENYA
MESSAGE FROM
H.E. THE AMBASSADOR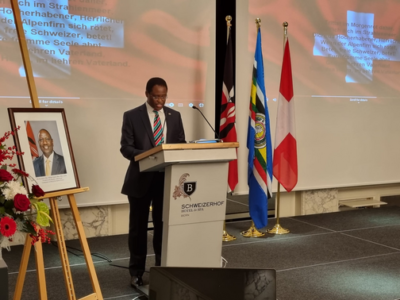 Welcome to the official website of the Kenyan Embassy in Bern. We sincerely hope that you will find the website and its linkages useful for getting news and information about Kenya, with particular attention to the Government, consular services, trade and investment opportunities, travel and tourism, as well as bilateral relations with the Confederation of Switzerland. ➚ Read More
REGISTRATION OF KENYAN
NATIONALS
Kenyan citizens residing in Switzerland are urged to register themselves at
the Kenyan Embassy in Bern. This will enable the Embassy to provide essential services in an efficient manner, especially in emergency cases.
| | |
| --- | --- |
| President Uhuru Kenyatta Pays an Official visit to Switzerland | Former President Uhuru Kenyatta Commissions the Embassy in Bern |
| CELEBRATING JAMHURI DAY 2022 AT THE SCHWEIZERHOF HOTEL IN BERN. | Fernweh Festival at the Kursaal Hotel in Bern on 29th October 2022 |
| Platform To Support Diaspora Business Engagement in Kenya |   |
The Embassy wishes to alert all potential e-visa applicants to Kenya of the existence of scam sites;
www.kenyanevisa.com www.kenyaonlinevisa.org
The Government of Kenya has fully automated the issuance of most visas through the official Government website:
For more information:
CONSULAR SERVICES QUICKLINKS
TRADE AND INVESTMENT
OPPORTUNITIES IN KENYA
Kenya Export Promotion & Branding Agency
Take a tour through Kenya's trade, tourism, investments, sports and cultural landscapes.
➚ Link to Kenya Export Promotion & Branding Agency
Get to know about TEASOKO, your trusted online destination for quality 100% Kenyan grown Tea.